THE TEAM
---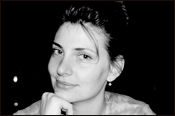 Susan Cohen
-Writer & Director



After graduating from the University of Toronto and before fulfilling her dream of working in the film industry, Susan Cohen honed her skills as a producer and executive in the software, interactive and online arenas in both Canada and the United States. In 2002, Susan decided to pursue her dream to become a filmmaker - and she's never looked back.

Susan's first foray as a producer was on the American Film Institute (AFI) thesis film FUELING THE FIRE, directed by Tanja Mairitsch. FUELING THE FIRE has won more than twelve national and international awards and has been an official selection at 33 film festivals worldwide. FUELING THE FIRE has aired on HBO and Cinemax.

She also produced AFI's DWW short film LAYING DOWN ARMS, directed by Carol Schreder and executive produced by Jon Avnet and ANIMATED AMERICAN, a live action with animation short film, directed by James Baker and Joe Haidar. In addition, Susan has produced commercials and the music video, SUNSET BLVD. for ER star Scott Grimes. Susan is slated to produce two independent features, NOT DEAD YET, REALLY and THE CHEF, and is currently in development on a television series.

Susan was selected from over two hundred applicants to be one of the eight women to participate in AFI's Directing Workshop for Women 2007. OPEN YOUR EYES is Susan's writing and directing debut. She is now working on writing her first feature, which she hopes will be her feature directing debut.




CREDITS
---
AFI's Directing Workshop for Women presents a 6 [ft] 1 PRODUCTION

Traci Dinwiddie

Suzy Nakamura

Eric Lange

Teresa Huang

Written and Directed by
Susan Cohen

Produced by
David Newsom
Amy Sommer
Alisa Wiegers

Executive Producers
Mark Goodstein
Erick Herring
John Stein

Director of Photography
Stephanie Martin

Edited by
Steven Ansell

Music by
Wolfram de Marco
and Leslie Stevens

Casting by
Monika Mikkelsen

Visual Effects Supervisor
Sean Wilson

Associate Producers
David and Joza Cohen
Marcia Goodstein and Bill Gross
Kathleen M. Harris
Robert E. Malchman
Beverly Sommer

CAST

"Julia"
Traci Dinwiddie

"Katherine"
Suzy Nakamura

"Kevin"
Eric Lange

"Deborah"
Teresa Huang

"Naomi"
Julie Lee

"Tess"
Elisabeth Roland-Reza

"Eva"
Margaret Medina

"Doctor"
John Bishop

Bridal Shower Guests
Karen Black
Jennifer Chang
Barbara Chow
Erin Hill
Jennifer Johnson
Jessica Kalin
Sarah Lenkowski
Keiko Noto
Sara Rowe
Noelle Scaggs
Alisa Wiegers

Production Designer
Fontaine Beauchamp Hebb

Costume Designer
Darragh Marmorstein

Key Makeup Artist
Heather C. Howard

Assistant Makeup Artist
Sherri Haight

Line Producer / UPM
Anthony R. Ervolino

Medical Consultant
Francesca Hoehne, M.D.

Consultant
Melissa Johnson, Ph.D.

Bridal Shower Food and Event Styling
Dan Smith, Good Gracious! Events

Casting Associate
Gene Vassilaros

First Assistant Director
Jennifer Willis
Jay Guerra

Second Assistant Director
Elisabeth Roland-Reza

Script Supervisor
Babette Stith

First Assistant Camera
Joseph Walsh

Second Assistant Camera
Sean Conaty

Assistant Camera
David Lassiter

Steady Cam Operator
Nicholas Martin

Gaffer
Neal Mhaskar

Electric
Samuel Horowitz

Key Grips
Kris Carillo

Grips
Erik Beegal
David Cronin
Heather D. Kehayas
Jesse Alson-Milkman

Swing
Ebony Winston

Stills Photographers
David Newsom
Justina Mintz
Oliver Baldovino

Sound Mixer
Mark Patino

Boom Operator
Steven Schwedt

AFI Coordinator
Barbara Chow

Storyboard Artist
Joe Haidar

Drivers
Tony Fonseca

Production Assistants
Jason Bennett
Danielle Bush
Tiffany Seiter

Catering
Blue Tuesday

Supervising Dialogue & ADR Editor
Elizabeth Kenton

Supervising Sound Editors / Sound Designers
Seann Dougherty & Brett Voss

Re-Recorded at Wildfire Post-Production Studios

Re-Recording Mixer
Chris David

ADR Mixer
Eric Thompson

ADR Recordist
Travis McKay

Recordist
Gabriel Serrano

Engineer
Jim Albert

Head Sound Effects Librarian
Maureen O'Connell

DaVinci Colorist
Michael Mintz

HD On-line Editor
Bob Williamson

Audio Layback
Ben Thomas

Technical Operations Advisor
Ryan Jaffe

Titles
Chris Jones

Original Song
"Now I Know"
Music and Lyrics by Leslie Stevens
Performed by Leslie Stevens
Piano - Salvatore Leonardo
Leslie Stevens Publishing
Recorded at Red Rockets Glare
Engineer - Raymond Richards

Special Thanks:

American Film Institute
The Constance G. Zahorik Breast Center at Huntington Hospital
Good Gracious! Events
The Hill Breast Center
Pasadena Film Office
The Post Group
Reflections part of Simms/Mann UCLA Center for Integrative Oncology
Wildfire Post-Production Studios

This project could not have been done without the generous contributions, support and guidance of the following individuals:

Patrons
Staci Barron
Mike Hanssens
Kate Winegar

Benefactors
Jonathan Cohen and Anne Switocz-Cohen
Anne and Michael Marvin
Ayan Roy and Shatarupa Sengupta
John and Roxanne Schenk

With much gratitude to:
Joe Petricca
Nichol Simmons
Chris Schwartz
Anna Lawton
George Walczak
Gill Dennis
Rebecca Aldana

As well as the all the other incredible individuals at AFI for their insight and support of this project.

And to the other women of the DWW's 21st Cycle:
Liz Adams
Pamela Johnson
Jasmine Kosovic
Marya Mazor
Chris Sanagustin
Devi Snively
Casey Stangl

And many thanks to:
Jim Adler
Steven Ansell
Jake Broderick
Chris D. Cooper
Brence Culp
Nancy Cushing
Chris David
Jessa De Sena
Trudy Goodstein
Sigmund Goodstein
Gavin Glenn
Sheryl Goodhead
Larry Harmell
Sian Heder
Erick Herring
Monella Kaplan
Elizabeth Kenton
Jennifer Laughlin
Grace Lee
Caryn Mladen
Daniel Medina
Ken Nakada
Ariel Penn
Victoria Sampson
Carol Schreder
Jaclyn Sollitto
Flo Speakman
Marilyn Tokuda
Cathy Vesolowski
Robert K. Weiss

Apache Communications
Bristol Farms
Castex Rentals
Clairmont Camera
Edgewise
Indie Rentals
J.L Fisher Inc.
Kino Flo Inc.
Mole Richardson NBC Universal Costume Department
Omega Cinema Props / C. P. Four Ralphs

Edited on an Avid Symphony
Videotape equipment courtesy of Sony Corporation of America
24P HD camera equipment courtesy of Sony Corporation of America
24P HD lenses courtesy of Fujinon Inc.

Screenplay developed in the Jessica Kaplan Screenwriting Series at the Directing Workshop for Women

The characters and events depicted in this motion picture are fictitious. Any similarity to actual persons, living or dead, is purely coincidental.

This motion picture is the property of the American Film Institute and is protected under the copyright laws of the United States and other countries. Unauthorized duplication, distribution or exhibition may result in civil liability and criminal prosecution.

A project of the Directing Workshop for Women at AFI

Funded by:
AFI Associates
Edith and Barry Briskin, and their children
Andrew Briskin and Dr. Susannah Briskin
Jean Picker Firstenberg Endowment
National Endowment for the Arts
The Adrienne Shelley Foundation
Sony Corporation of America

And other generous corporations and individuals committed to providing opportunities for women in the media arts
copyright MMVIII

This film is dedicated in loving memory of: Mira Puppis
Margaret Ervine-Turcotte

Dedicated to:
Marlene Ansell
Nabila Haidar
Mary Mladen

and

Melissa Johnson
whose spirit pervades this film